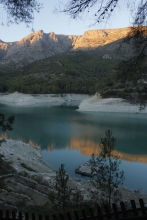 Embalse de guadalest
Benimantell was first settled in approximately 1249.
The official capitulations (treaty) to demonstrate that Benimantell enjoyed legal independence from that moment on were presented on 22 April 1611.
When the Kingdom of Valencia split into three provinces in 1833, Benimantell became part of Alicante Province.
Benimantell is located in the region of La Marina Baixa, nestled in the heart of the Guadalest Valley and only 20 minutes from such coastal towns as Altea and Benidorm.
In these rural surroundings, visitors will be able to enjoy some rest, tradition, gastronomy, mountain sports.
Discover Benimantell and you will be IMPRESSED!
Here are two books in Pdf of Benimantell: